Join our team and realize the most beautiful projects in Quebec!
We offer you:
competitive salaries;

comprehensive group insurance;

a pension fund with the Fonds de solidarité FTQ;

an employee assistance program;

6 sick days per year;

uniforms provided!
We hire
You can view our career opportunities by viewing
Maçonnex's profile on Indeed.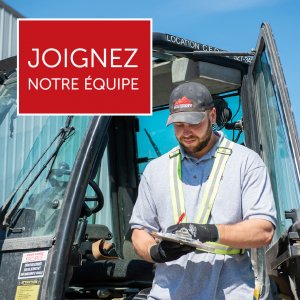 ---
Our mission
To be the best destination for finding products that enhance the unique aspect of your living space.
Our values
PRIDE Reaching expectations with precise, quality work every day. To be proud to represent the Maçonnex company through my daily involvement and my desire to convey our values.
ATMOSPHERE Cultivate the pleasure of being together and working as a team.
INNOVATION Dare to innovate and surprise. Don't be afraid to reinvent yourself to become better.
RESPECT Work in harmony and see others as myself, regardless of my job and responsibilities.
SUCCESS We set individual and team goals and achieve them together.
---
Unsolicited applications
If you wish to join the Maçonnex team, please send your curriculum vitae to Pier-Luc Lessard at the following address: [email protected] indicating the position (s) that interest you, as well as the region in which you wish to work.